The Asian Medical Students' Association-UST (AMSA-UST) is one of the founding member organizations of Asian Medical Students' Association – Philippines (AMSA-Phil), which is one of the founding member of Asian Medical Students' Association – International (AMSA-I) and the only recognized national member of the International Federation of Medical Students' Association (IFMSA). Being an official affiliate of the said organizations gives AMSA-UST members various opportunities to connect with medical students from across 125 countries.
Established in 1985, AMSA-UST continues to aspire to develop academically-competent, socially-responsible and globally-oriented students of medicine who have a profound awareness and understanding of their critical role as future health care providers. It serves to mold influential leaders of society capable of instilling change by upholding and advocating humanitarian ideals, medical ethics, and Thomasian values, as well as a sense of responsibility about relevant social issues that affect health, medical practice, and the health care system.
This pandemic has brought new light as we venture into virtual conferences, trainings and events from across the globe. Opportunities await each member as we maximize technology and virtual encounters with various medical schools locally and internationally.
The University of Santo Tomas Medicine Glee Club (UST MGC) is the official and recognized chorale group of the UST Faculty of Medicine and Surgery (UST FMS). Its current conductor is Mr. Ryan Vicente. It was established in 1958 and is the premier performing arts group representing the UST FMS in various events and chorale competitions inside and outside the University. It has bagged multiple awards from several competitions throughout the years and is continuing to provide a venue for medical students to express their passion for singing and improve their musical abilities while upholding academic excellence.
Since the pandemic occurred, UST MGC has been doing virtual choir projects showcasing the talents of its members. The virtual choir projects have been used in numerous online events and seminars inside and outside the UST FMS. The goal of UST MGC is to continue to perform and inspire the Thomasian community with its performances amidst the pandemic.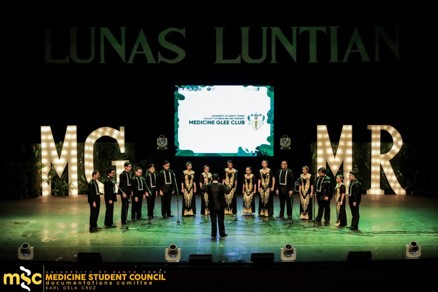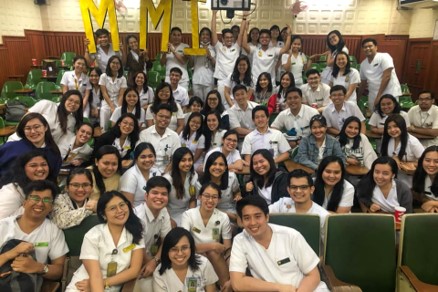 The Medical Missions, Inc. is a charitable organization that renders free social, medical and surgical services to the indigent Filipinos in the urban and most especially in the rural areas of the country. It was established in 1961 by Anthony Galleta when he first visited Kiangan, Ifugao. One year later, the MMI was established as an independent organization and was incorporated with the Securities and Exchange Commission. From then, MMI gained national attention and would receive urgent requests for medical and surgical missions in remote and impoverished areas in the Philippines devoid of medical care and attention. Today, it is composed of doctors, nurses, sisters and priests and other paramedical personnel that continue to extend help to anyone needing health care services. The organization has been working through donations from private individuals, free services from specialists and doctors from various fields, volunteer nurses, as well as nursing and medical students.
The course involves all four (4) medical undergraduate years. Students will have formal classroom discussion and general lectures on research methodology, medical informatics, and critical appraisal of medical literature and evidence-based medicine in the first two school years of Medical school. Periodic evaluation of knowledge acquisition and progress is done and a required terminal output of a valid research protocol or proposal for Research Methodology and, properly appraised medical literatures in the four primary medical studies (diagnosis, therapy, harm and prognosis) for Critical Appraisal and Evidence- based Medicine. Separate consultation/ research laboratory hours will be allotted during the four medical school years to be used for: in the 1st year development, presentation, improvement and evaluation of research proposals; 2nd year & 3rd year research data gathering, encoding and analysis; 4th year research paper writing and presentation.
The University of Santo Tomas Pax Romana – Medicine Unit, in pursuit of truth, guided by reason and illumined by faith, inspired by the living experience of Christ, and guided by the preferential option for the poor, dedicates herself to fostering a community which develops a pedagogy of critical reflection and holistic transformation and solidarity for realizing a world of justice and peace and committed to the integral formation of Catholic students as a prerequisite of him/her as a true genuine lay apostle, morally upright, competent, and compassionate professionals who have passion for truth, whose selfless service to God and neighbor is manifested in their responsiveness to national and global concerns, and committed to the service of the Church, nation, and the global community.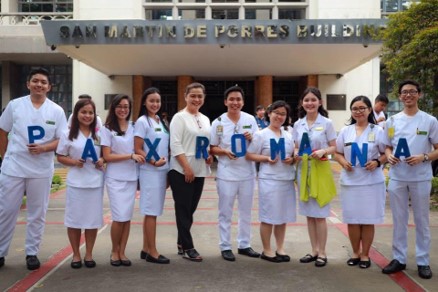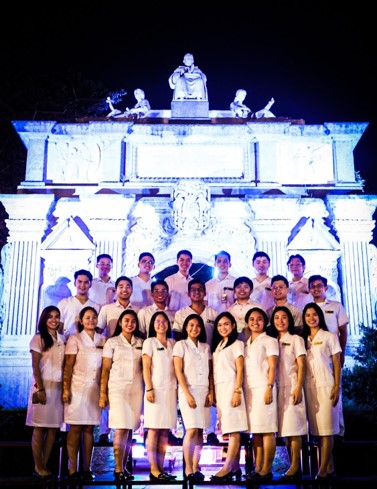 The Terpsichorean Circle is committed to promote cultural growth and awareness through the expression of the art of dance, not only to the Faculty of Medicine and Surgery, but to the whole University. We are dedicated to inspire artists, dancers and non-dancers alike, to express their passion and hone their talents in the field of arts. We likewise aim to develop the values of camaraderie, cooperation, unity, charity and responsibility among its members. Amidst any circumstance, the Terpsichorean Circle has continued to promote self-expression through any kind of platform that's available to us. With the unwavering passion for the craft, the members continue with their willingness to grow and learn as a team.