By: Flordeluna Z. Mesina, MD
Dr Joven Mangahas of Class 1958 is the oldest participant in the UST-FMS alumni registry. A proud alumnus who never forgot his alma mater no matter how long and far the distance.
After graduation, he migrated to US and pursued residency training in surgery. Seems like his heart was not on cutting and stitching because he found his passion in taking care of the whole family. He became a well-loved and highly reputable family medicine practitioner in Indiana. He was kind and compassionate to patients from all walks of life. He would spend time listening and caring for patients and their families, doing clinic consults, ward rounds and house calls even in the wee hours of the day. This dedication to his profession was matched by patients' devotion especially felt during his retirement from clinical practice.
Despite the workload, his top priority is his family. His son described him as an excellent provider and a family man who took an active role in their education. He was leading but not imposing. He was level-headed and calm in dealing with difficult situations. And he allowed his children to make and learn from their mistakes. This type of parenting produced four hardworking professionals (an engineer and three nurses) who continue to contribute to community development. Currently, he is enjoying his time with his 9 apos as a doting grandfather.
Dr Mangahas recalled that he was a popular student leader from med school and the leadership attributes he carried as he led the UST Medical Alumni Association of the Midwest and several other positions added to the list. In 1998, he was awarded "Sagamore of the Wabash"-it is the highest reward given by the Governor of Indiana. It is a personal tribute given to those who rendered distinguished service to the state. He was also the recipient of the Meritorious Award for Hermogenes A. Santos Professional Chair Foundation given by UST.  He continues to forge ties with UST as a benefactor of the UST-FMS foundation providing scholarship to deserving students. This is his way of giving back to his alma mater.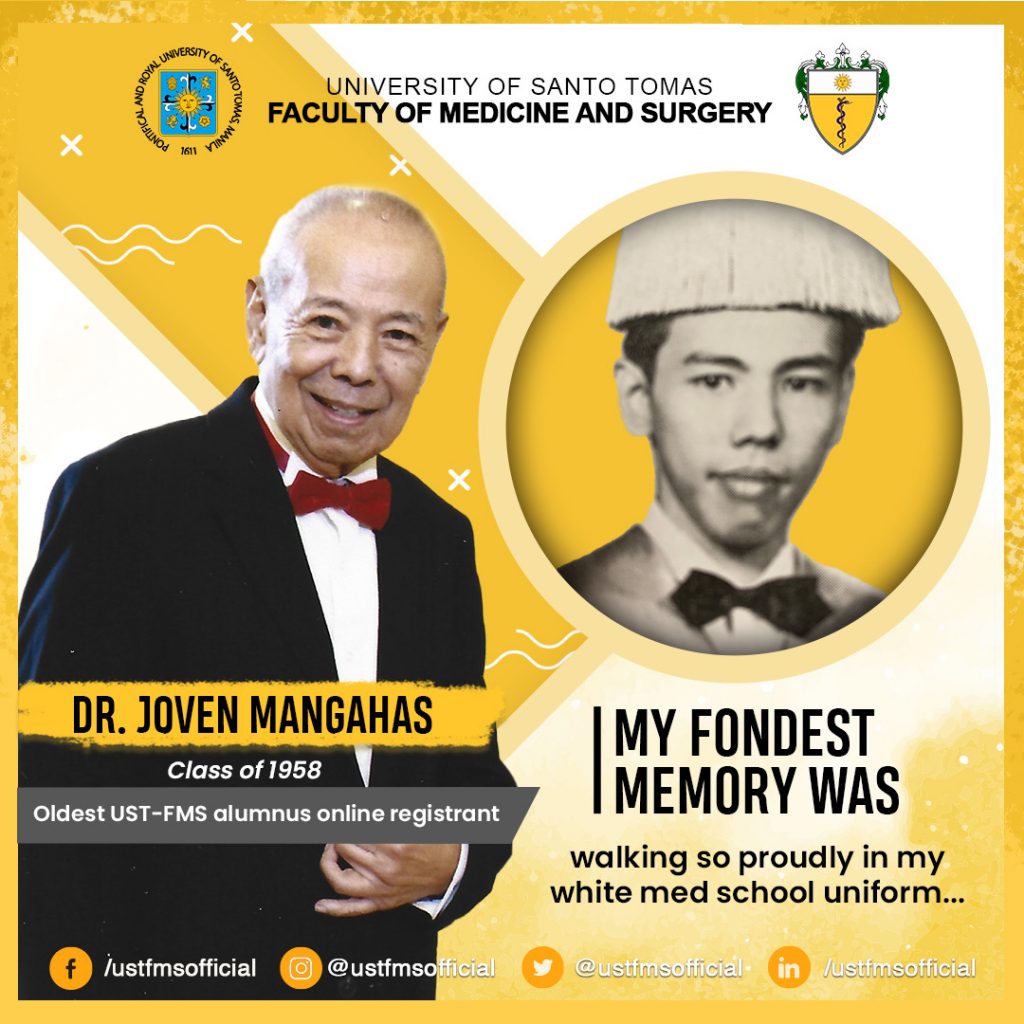 In this short interview, he recalls the best days in medical school as he committed them to his memories forever.
Describe medical school life during your days.
My med school life was amazing despite all the difficulties…so many books to read and I had to pass because my father was very strict.
What was your favorite subject and least favorite subject?
My favorite subject…you want to know the truth? —None (spelled it out) N.O.N.E!
It was all very difficult, but my father dreamed of me being a doctor from UST, Amen!
What were your fondest memories?
My fondest memory was walking so proudly in my white med school uniform.
I gambled a lot and when I won many of my male classmates are having fiesta because I won. I would take them to Ma Mon Luk to have mami, siopao and coke. And you know on those days that was really "tunay" (friendship)!
When it comes to nitty gritty, I spent my time cramming and studying in Escolta. Why Escolta? That is where USIS (U.S. Information Service) Library was at that time. No "lamok", No "surot", No "langaw". It's quiet and airconditioned.
It is also amazingly funny and unbelievable, my classmates every year elected me as student leader, simply because of my "katarantaduhan" and "kagaguhan"!
I always had a "blow-out" with my classmates them at Ma Mon Luk!
Who did you look up to during your med school years and why?
It's always hard…but my father is the one I looked up to, he was hard working, patient and always dreaming of having a son to be a doctor from UST. Everyone looked up to my father, because he was the first Pharmacist in my hometown in Nueva Ecija before the war.
Where you active in organizations or extra-curricular activities? any stories on orgs?
Fraternity was my extracurricular activity, but hazing did not suit me…I just gamble on the side and played basketball occasionally.
What can you advise current medical students?
I am proud of my beloved alma mater, UST. My post ambition is to continue connecting with UST and give back in my own little way. Our good God has blessed me with success in my practice here in the USA.